I assume everyone reading this has heard of CCRI. Maybe you work here, love somebody who is served through us, or have seen fundraising events, news clips, or community events centered around our organization. We are known as a leader in our community for supporting people with disabilities. We focus on a person's abilities—what they can do instead of what they can't and assist them to live life to the fullest. This also includes people who have a mental illness.
CCRI's mental health department has nine team members that work across three programs—Aftercare, ARMHS, and therapy—which together serve more than 100 people in our community. The folks we serve in this department are just like you and me, except they are living with a Serious Mental Illness (SMI) or a Serious and Persistent Mental Illness (SPMI) that is affecting their ability to live their best life. Each program meets each individual where they are at in life and provides the support needed wherever they may be in their recovery process.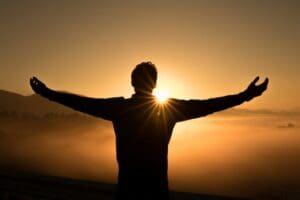 The Aftercare program serves adults in Clay and Wilkin counties and consists of our Mental Health RN and one of our Mental Health Practitioners. Aftercare is meant for individuals who:
Are transitioning back into the community after a psychiatric hospitalization
Are at a higher risk of needing hospitalization
Have high medical needs that aren't being met through their current providers, or
Have a mental illness that has caused them to be screened for Civil Commitment through the county due to their symptoms making them a danger to themselves or others.
Our Aftercare program aims to connect with people within 48 hours of referral to ensure their basic needs are met, they are safe in their homes or set up for success if going back to their homes, and are connecting with the longer-term community supports (including case management, psychiatry, therapy, and ARMHS) that will help them maintain recovery. The Aftercare team, including our Clinical Supervisor and Treatment Supervisor, meets weekly to problem-solve difficult cases and assess current clients for readiness to graduate. Individuals in our Aftercare program generally receive these services for 6–12 months as they transition into their longer-term supports meant to maintain recovery.
ARMHS (Adult Rehabilitative Mental Health Services) is a longer-term support for individuals in the community who are at a place in their mental health journey where they have the ability to build skills to better manage their mental health. We currently have five ARMHS Practitioners who serve more than 70 adults in Clay County. Each person who receives ARMHS develops a treatment plan when they start. It is updated every six months while in the program, they identify their recovery vision and shorter-term goals to reach this vision. Some common goals are gaining a job, reconnecting with family, sobriety, maintaining a home, and preventing future hospitalizations. Practitioners then work with each person to teach and practice skills to remove barriers to achieving these goals. Common skills that are focused on include:
symptom management
household management
employment readiness and maintenance
healthy living
socialization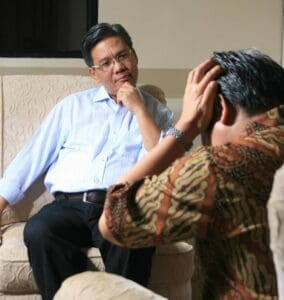 Practitioners meet clients in their homes or out in the community to work on their goals; it's not uncommon to run into one of our practitioners at the YMCA, a bus stop, A Place for Hope, Caribou Coffee, or the Moorhead Library as they implement interventions with the folks we serve. Some of our clients reach their recovery vision and feel confident in graduating within a year, others continue to receive our services to maintain recovery for 10+ years. We meet each person where they are at and keep their needs and best interests in mind.
Our therapy program consists of our Clinical Therapist who meets with more than 30 regular clients for individual therapy on a weekly or semi-monthly basis in order to process incidents of past trauma, navigate ongoing interpersonal relationship conflicts, manage chronic symptoms, and support sobriety and other healthy lifestyle choices that help to maintain their mental health. Our therapist provides a non-judgmental, safe space for individuals to get things off their chest and work through the complexities of life. In addition to providing individual therapy, this program also offers Diagnostic Assessments for those needing this to maintain eligibility for supportive services including ARMHS and case management. Our Clinical Therapist collaborates closely with our Clinical Supervisor to provide the best support to those being served. Dialectical Behavioral Therapy (DBT), Cognitive Behavior Therapy (CBT), and Trauma-informed Approaches are commonly used methods during therapy at CCRI.
Many of the clients served in our Mental Health Department are enrolled in two, or sometimes all three, of our programs as they work through various stages of their mental illness. They have a wide range of diagnoses, including Major Depressive Disorder, Post-traumatic Stress Disorder, Agoraphobia, Schizoaffective Disorder, Bipolar Disorder, and Borderline Personality Disorder, to name a few.
Each person has a story—a past to share and a story to continue to write—and are worthy of living their best life possible despite their diagnosis. Our mental health department takes pride in living CCRI's mission of focusing on each person's ability and enabling individuals to live their best life, no matter where they are at in their life story.
For more information about CCRI's Mental Health Program, visit CCRIMoorhead.org