By Katie Beedy, Tellwell
The bond between a Direct Support Professional (DSP) and a person they support is unlike any other. They celebrate each other's successes, and support one another when things get tough. With every haircut, every high-five, a mutual trust is formed and deepened. With every new skill a client learns, both are filled with a sense of accomplishment and pride.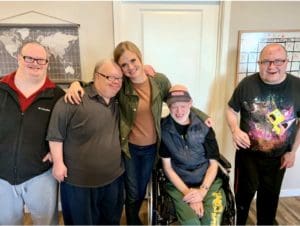 When Amber Lobdell opens the door of her workplace on a Friday afternoon, she's greeted by an older gentleman in a wheelchair, wearing a Vikings jersey and an infectious smile.
It's Brad, and he's waiting for Amber right where he always does.
"Brad has the biggest personality and a heart of gold," Amber said. "He will be the first one to greet you, and he'll always remember to ask about your family. He's even my dog's godfather."
Amber has been working with Brad since she first joined CCRI nine years ago. It wasn't in her career plans at the time; she'd attended school for ceramics, but soon found that the solitary, introspective work she'd once aspired to no longer suited her. She craved more human connection. Recalling a college roommate who'd worked at CCRI, she applied to become a DSP and never looked back.
Amber provides Brad and his housemates—David, Greg, and Lane—with the in-home personal and medical care they need to live their happiest, most fulfilling lives. Each day is different; some involve accompanying "The Guys" (as they are affectionately known by their staff) on errands or to community events. Others are spent dancing in the living room and assisting with chores around the house.
"I love everything about my job," Amber said. "We've been through hard times. We've been through really exciting times. We've been to funerals, birthdays, dances, bingo nights, hospitalizations, and everything in between. Brad is part of my family, and I can't imagine life without him."
A Guardian Angel
As the mother of a CCRI client, Kathy Offerdahl has witnessed this one-of-a-kind bond first-hand. Her adult son, Eric, lives with behavioral challenges that Kathy and her family are not equipped to handle on their own. For the past two years, Eric has received support from a DSP named Moe.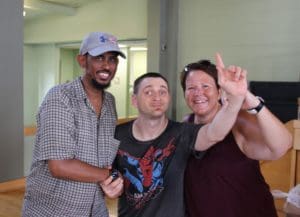 "Moe and the rest of the CCRI staff are really an extension of me when I'm not able to be here. They hang in there when it's tough, and they are there when it's uplifting," Kathy said. "This certainly isn't a babysitting job. There can be a lot of effort and a lot of work, and it can be draining. But they come back, even when they wouldn't have to. And for that, I am grateful."
Moe and Eric go on bike rides, do laundry, and spend hours filling in coloring pages together. These tasks may seem simple to the rest of us, but for an individual living with disabilities, the little things are the big things. While Eric has a difficult time communicating with words, the love he feels for Moe—and that Moe feels in return—is unmistakable.
"[Moe] provides the stability, the structure, the consistency that Eric needs to make him successful. He is very positive. He engages with Eric. He encourages Eric. He is kind to him. And I think that Moe actually treats Eric like he wants to be treated," Kathy said. "As far as I'm concerned, Moe is Eric's guardian angel."
Part of a Family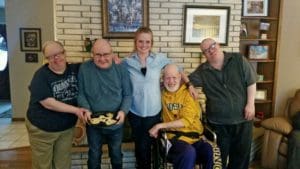 So much has changed in the nine years since Amber first met Brad. The Guys have moved into a new home that was custom-built to meet their unique needs. Amber's family has grown, with the addition of two beautiful children who love their "Uncle Brad."
One thing that has never changed is her commitment to supporting Brad.
"My role has changed over the years. I've done overnights, I've done weekdays, and I've done every other weekend. Right, now I'm working two days a week because that's what works for me," Amber said. "Through it all, CCRI has been so understanding. They've always told me, 'We will make your shift what you need it to be, what hours you need.'"
People like Amber and Moe become DSPs because they are passionate about caring for others—because they want to have an impact on their community. What they don't always expect is the impact that the role will have on them.
"I've struggled with anxiety, and CCRI has embraced that in me. I've written blog posts and spoken at events about my anxiety, and how The Guys have done more for me than medications or therapy could. They have so much love and passion for life, and they've given me so much. It's like a family being part of CCRI."
Be a daymaker with CCRI! If you are passionate about enhancing and enriching the lives and learning of people with disabilities, we want you to join Amber, Moe, and our incredible team of DSPs. Learn more and apply today at https://ccrimoorhead.org/careers/