By Beth Schmitz, CCRI DSP
As I came up on my 7 year anniversary with CCRI, chatting with my wonderful manager got me thinking about how much CCRI has paved a path for my current life. I applied to the organization as a freshman in college, having no experience or idea what the job would entail. As it turns out, my passion grew quickly as I trained at several sites with multiple extraordinary clients. And it wasn't just the clients who have been amazing, it has been fellow staff. I have met some lifelong friends, made connections, and worked alongside the most special individuals.
I continued to work at CCRI as I went to college, while trying to figure out what career path I wanted to follow. It wasn't until I trained with a highly medical client that it hit me: nursing.
One of the people I worked with started requiring higher medical cares (foley catheter, feeding tube, etc). I loved learning the skills to care for this client. When a client was prescribed a new medication I enjoyed learning about why. It all clicked for me. I enjoyed collaborating with the nursing staff so much, it seemed like an obvious choice! Once I started nursing school, I loved taking what I learned and trying to enhance client health safety with preventative techniques.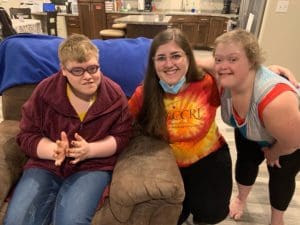 CCRI helped me discover my passion while also allowing me to work flexible hours while I pursued it.
Flash forward to today, I am about to celebrate my 1 year anniversary as a Registered Nurse, and it was CCRI that helped get me here. Not only that, but the flexible hours and accommodating RCs have allowed me to continue to care for the clients I have had the pleasure of working with the last 7 years.
Thank you to CCRI and all the people here; you forever hold a special place in my heart.
Join Beth! Visit www.CCRIMoorhead.org for more information and our current openings.